Obstetrics & Gynaecology
The Department of Obstetrics and Gynaecology at Welcare Hospital is well equipped to cater to women of all age groups. It comprises of a team of experienced and skilled doctors who take great pride in their work.
The department is backed up by an excellent team of medical professionals who are well experienced in dealing with high risk pregnancies, painless labour and all gynaec laparoscopic surgeries.
Following is a list of services offered
Care during high-risk pregnancies

Pre-eclampsia
Gestational diabetes
Thyroid related problems
Adolescent health care
Conventional gynaecology services
Laparoscopic and hysteroscopic minimally invasive surgery
Cancer screening and Colposcopy Tubectomy
Prenatal care
Postnatal care
Gynecologic cancer care
Evaluation of abnormal PAP smears
Facilities
State of the art Labour Room, for the very special moments of a woman's life.
Comfortable private birthing suites
Painless Delivery
Labour delivery with birth companion
Advanced Neonatal ICU
We're equipped to handle all Obstetrics and Gynaecological emergency surgeries round the clock.
---
Our Consultants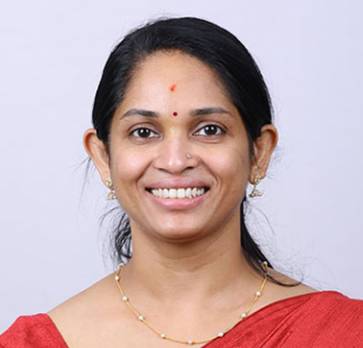 Dr. Indu B. R
MBBS, DGO, MS (Obstetrics & Gynaecology). FMAS
Lead Consultant - Obstetrics & Gynaecology
Dr. Divya C
MBBS, DGO, DNB
Consultant Gyneacologist
Dr. Sreelakshmi Laxman
MBBS, DNB OGY
Consultant – Gynaecologist
Dr.Shradha Manoj
Consultant – Gynaecologist
Dr.Nithya Nathan
Consultant – Gynaecologist
Dr. Jaga Jayadas
Obstetrics & Gynaecology